BSRC Fleming's Respiratory Unit (BFRU) provides access and specialized expertise to conduct ex/in vivo studies with animal models that provide insights into pulmonary disease pathophysiology and treatment. These include pulmonary phenotypic evaluation of novel genetically modified mouse strains, as well as efficacy studies of novel pharmaceutical interventions. The BFRU core consists of specialized respiratory instruments to measure respiratory functions, as well as to administer drugs directly to the lung.

BFRU is proficient in many respiratory animal models, including LPS-induced acute lung injury (ALI) (1), ventilator-induced lung injury (VILI)(2), OVA-induced allergic asthma (3, 4), Urethane- and/or /KrasG12D-induced lung cancer (5, 6). However, the primary and more frequently used animal model is Bleomycin (BLM)-induced pulmonary fibrosis (7-9). In vivo modeling of pulmonary fibrosis is complemented with the ex vivo model of precision cut lung slices (PCLS), as well as with 3D primary fibroblast cultures on autologous acellularized extracellular matrix (ECM).
The BFRU core is complemented with a range of BSRC Facilities' services to further characterize respiratory pathophysiology. For example, the standard histopathology analysis (H&E) is complemented with a variety of specialized stainings, and inflammatory cells in the bronchoalveolar lavage fluid (BALF) are characterized via multi color FACS analysis, upon genetic or pharmacologic interventions (9, 10).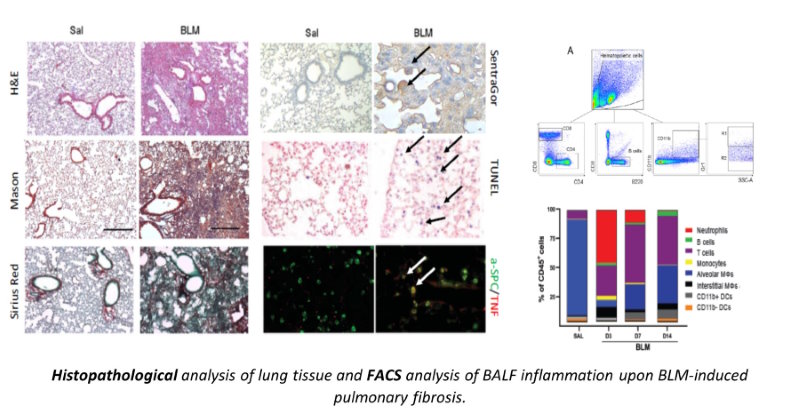 References
1. Mouratis MA, Magkrioti C, Oikonomou N, Katsifa A, Prestwich GD, Kaffe E, et al. Autotaxin and Endotoxin-Induced Acute Lung Injury. PLoS One. 2015;10(7):e0133619.
2. Nikitopoulou I, Ninou I, Manitsopoulos N, Dimopoulou I, Orfanos SE, Aidinis V, et al. A role for bronchial epithelial autotaxin in ventilator-induced lung injury. Intensive care medicine experimental. 2021;9(1):12.
3. Park GY, Lee YG, Berdyshev E, Nyenhuis S, Du J, Fu P, et al. Autotaxin production of Lysophosphatidic Acid Mediates Allergic Asthmatic Inflammation. Am J Respir Crit Care Med. 2013.
4. Xirakia C, Koltsida O, Stavropoulos A, Thanassopoulou A, Aidinis V, Sideras P, et al. Toll-like receptor 7-triggered immune response in the lung mediates acute and long-lasting suppression of experimental asthma. Am J Respir Crit Care Med. 2010;181(11):1207-16.
5. Magkrioti C, Oikonomou N, Kaffe E, Mouratis M-A, Xylourgidis N, Barbayianni I, et al. The Autotaxin—Lysophosphatidic Acid Axis Promotes Lung Carcinogenesis. Cancer research. 2018;78(13):3634-44.
6. Spella M, Lilis I, Pepe MA, Chen Y, Armaka M, Lamort AS, et al. Club cells form lung adenocarcinomas and maintain the alveoli of adult mice. Elife. 2019;8.
7. Mouratis MA, Aidinis V. Modeling pulmonary fibrosis with bleomycin. Curr Opin Pulm Med. 2011;17(5):355-61.
8. Tashiro J, Rubio GA, Limper AH, Williams K, Elliot SJ, Ninou I, et al. Exploring Animal Models That Resemble Idiopathic Pulmonary Fibrosis. Frontiers in medicine. 2017;4:118.
9. Barbayianni I, Ninou I, Tzouvelekis A, Aidinis V. Bleomycin Revisited: A Direct Comparison of the Intratracheal Micro-Spraying and the Oropharyngeal Aspiration Routes of Bleomycin Administration in Mice. Frontiers in medicine. 2018;5:269.
10. Zannikou M, Barbayianni I, Fanidis D, Grigorakaki T, Vlachopoulou E, Konstantopoulos D, et al. MAP3K8 Regulates Cox-2-Mediated Prostaglandin E(2) Production in the Lung and Suppresses Pulmonary Inflammation and Fibrosis. J Immunol. 2021;206(3):607-20.
Respiratory functions measurements
Drug administration
Bleomycin (BLM)-induced pulmonary fibrosis
Precision cut lung slices (PCLS)
3D primary fibroblast cultures
Histopathology
FACS analysis