Molecular and genetic dissection of pathogenetic mechanisms in the development of pulmonary fibrosis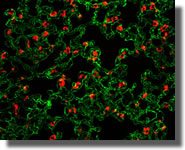 Idiopathic pulmonary fibrosis (IPF) is a chronic, progressive and usually lethal lung disorder of unknown etiology. At present there are no proven therapies for IPF. Current research indicates that the mechanisms driving IPF reflect abnormal, deregulated wound healing within the lung, involving increased activity and possibly exaggerated responses by a spectrum of pro-inflammatory and pro-fibrogenic factors. In order to further dissect pathogenetic mechanisms of pulmonary fibrosis, we are utilizing the animal model of bleomycin-induced pulmonary inflammation and fibrosis to address the possible involvement of various mediators through genetic modifications, expression profiling and translational research. Along these lines, we have suggested a role for Hypoxia-inducible factor-1 in disease pathogenesis and we have underlined the importance of epithelial apoptosis in initiating the pathological cascade leading to the development of pulmonary fibrosis. Epithelial apoptosis was shown to rely on epithelial cytoskeletal architecture mediated by gelsolin, an actin-binding protein. Moreover, we have distinguished the role of transmembrane and soluble TNF, suggesting that soluble TNF secreted from apoptosing epithelial cells, mediates the transition from pulmonary inflammation to fibrosis contrary to the beneficial role of transmembrane TNF. Most importantly, we have shown a pivotal role for ATX in disease pathogenesis and suggested ATX as a likely therapeutic target, currently in phase 3 clinical trials.
The lab has recently edited a special research topic on "Pulmonary Fibrosis" published at Frontiers in Medicine, available here. 
The lab is eligible to receive fellowships from Marie Sklodowska-Curie (MSCA) via the European Respiratory Society (ERS) and the RESPIRE4 project.
Indicative selected publications
The role of ATX and LPA signalling in embryonic development, pathophysiology and cancer

Autotaxin (ATX, ENPP2) is a secreted glycoprotein widely present in biological fluids, including blood. It is a plasma lysophospholipase D (lysoPLD) considered to be responsible for the majority of lysophosphatidic acid (LPA) production in the blood and at sites of inflammation. In turn, LPA is a bioactive lysophospholipid that evokes a great variety of cellular responses in almost all cell types, including cell migration, proliferation and survival. ATX and LPA signaling was shown from our group to be necessary for embryonic development, since complete genetic deletion of ATX from mice resulted to embryonic lethality, attributed to aberrant circulation and failure of neural tube closure. ATX was originally isolated from the supernatant of melanoma cells as an autocrine mobility stimulation factor; since, its role in carcinogenesis was well established and we are currently examining its role in various forms of cancer. However, high ATX expression has been discovered in non-malignant tissues such as the frontal cortex of Alzheimer-like dementia patients, the cerebrospinal fluid of multiple sclerosis patients, and as reported more recently from our group the arthritic synovium and the fibrotic lung, suggesting a possible involvement of ATX in chronic inflammatory disorders. On going genetic and pharmacological studies aim to establish ATX as a therapeutic target in chronic inflammatory disorders and cancer, to identify regulatory mechanisms of ATX expression and to examine its role in phospholipid homeostasis.
Indicative selected publications