Ion Torrent PROTON system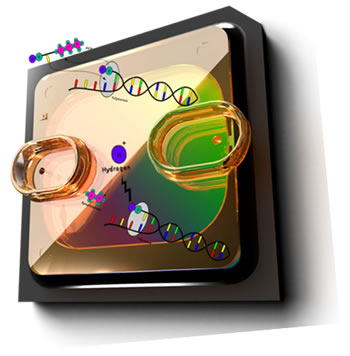 Next Generation Sequencing (NGS) has revolutionized genomics, offering a wide range of novel applications on a high throughput, genome-wide level.  NGS enables massively parallel sequencing of nucleic acid fragments to address a variety of experimental questions such as, SNP discovery, detection of structural variants, genome-wide measurement of mRNA transcripts levels and a number of other applications.
Sequencer: Ion Torrent PROTON
Emulsion: One Touch 2 emulsion System
Library preparation: Various methods available depending on application
Fragmentation: Chemical or Mechanical (Covaris S2)
Sample Processing: 1 run / day, No of samples depends on multiplexing
Sample Quality Assessment: Lab on Chip, Bioanalyzer / Nanodrop / QuBit / qPCR
Genomics Facility can prepare sequencing Libraries for the following applications:
Genome Sequencing: gDNA-Seq (de novo, re-sequencing)
Targeted/Exome sequencing: In solution Hybridization (TargetSeq), or PCR based amplification (AmpliSeq)
Transcriptome Sequencing: RNA-Seq, smallRNA-Seq.
Chip/FAIRE-Seq.
Multiplexing:
DNA and or RNA samples are tagged with a unique identifier during sample preparation and a number of samples can be pooled and sequenced together. Depending on the application and the reading depth needed, multiplexing will save time and reduce the overall cost of the experiment.
Libraries provided by users:
Please contact Genomics Facility personnel prior to library construction. User-provided starting material and prepared libraries have to meet Genomics Facility QC standards before sequencing.
Amount of starting material required per application
Type of Library ǁ Amount of Starting Material ǁ Concentration
RNA-Seq ǁ min 2ug ǁ >500ng/ul
Chip/FAIRE-Seq ǁ min 10ng ǁ 500pg/ul
Target-Seq ǁ min 3ug ǁ >50ng/ul
For user made libraries a final library concentration of min 5ng/ul is required
Quality of Starting material
RNA-Seq: High quality total RNA (BioAnalyzer RIN > 7), 260/280 ~2
Chip-Seq: Purified IP DNA with majority of fragments within size range 200 - 400 bp
FAIRE-Seq: Purified DNA with majority of fragments within size range 200 - 700 bp
gDNA: High quality & high molecular weight DNA