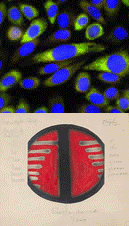 BSRC Fleming is one of the most rapidly developing research centers in Greece. It was established in 1998 and today is actively involved in cutting edge research in biomedical sciences. The Center currently hosts 14 research groups in 4 Institutes covering the areas of immunology, molecular biology & genetics , molecular oncology, cellular and developmental biology. Fleming has gained extensive visibility in the European Research Area through state of the art research programs in basic, as well as translational and applied science in biology, biomedicine and biotechnology (visit the Center's achievements page).


Fleming is a non-profit organisation and operates under the supervision of the General Secretariat for Research and Technology (GSRT) of the Hellenic Ministry of Education. In 2005 Fleming was proclaimed a "Scientific Center of Excellence" following a GSRT sponsored site visit by an international review panel of distinguished scientists.


Highlights
25/10/2013. Fleming researcher Iannis Talianidis has been elected member of Academia Europaea. Earlier this year he was elected Foreign Member of the Hungarian Academy of Sciences. The election to these prestigious Academies is a further recognition of the outstanding achievements in epigenetic research conducted in BSRC Al. Fleming

---

16/10/2013. Novel osteoporosis models. In a study published this week at the Journal of Bone and Mineral Research (DOI: 10.1002/jbmr.2112) the research group of Eleni Douni and colleagues generated and analyzed the first genetic models of osteoporosis by overexpression of human RANKL in transgenic mice. These unique mouse models represent an important advance for understanding the pathogenesis of high-turnover bone diseases such as osteoporosis while also permitting the preclinical evaluation of novel inhibitors that target either human RANKL or osteoclast activity. For more information please contact douni@fleming.gr

---

27/09/2013. Fleming researcher Prof. George Kollias has been awarded an Advanced ERC grant, to tackle the role of mesenchymal cells (MC) in intestinal homeostasis during inflammatory and tumorigenic conditions and achieve translational added value for a range of related diseases. The project is based on novel hypotheses developed by the Fleming laboratory that dysregulations at the MC compartment may be causal to chronic inflammatory and tumorigenic pathologies. This is the third ERC grant hosted at BSRC Fleming (amongst a total of 14 research groups) underscoring the Center's long standing commitment to meritocracy and the support of excellent research.

---

Introducing Biomedcode Hellas SA.
A spin off company of BSRC "Alexander Fleming" providing pre-clinical drug evaluation services to pharmaceutical companies using disease animal models.

---

The Center has established six core facilities to offer internal and external users direct access to its research infrastructures. The animal house facility, protein chemistry lab, expression profiling facility, transgenic facility, flow cytometry facility, innovation and enterprise unit, genotyping facility and BioIT unit are actively involved in collaborations with both academic and industrial partners.

More highlights...
International Collaborations
The BSRC Fleming participates in a number of International programs. Such collaborations are of significant importance for the exchange and dissemination of knowledge and expertise as well as bring together major groups around the world for the study and therapy of human disease.

Read more on International Collaborations...