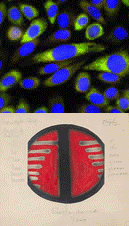 BSRC Fleming is one of the most rapidly developing research centers in Greece. It was established in 1998 and today is actively involved in cutting edge research in biomedical sciences. The Center currently hosts 14 research groups in 4 Institutes covering the areas of immunology, molecular biology & genetics , molecular oncology, cellular and developmental biology. Fleming has gained extensive visibility in the European Research Area through state of the art research programs in basic, as well as translational and applied science in biology, biomedicine and biotechnology (visit the Center's achievements page).


Fleming is a non-profit organisation and operates under the supervision of the General Secretariat for Research and Technology (GSRT) of the Hellenic Ministry of Education. In 2005 Fleming was proclaimed a "Scientific Center of Excellence" following a GSRT sponsored site visit by an international review panel of distinguished scientists.


Highlights
15/05/2013. Tumor necrosis by TNF revisited: In a study published today at JCI, Fleming researchers, in collaboration with Ghent University, VIB and Biomedcode Hellas SA, uncouple the mechanisms that mediate TNF's anticancer effects from its lethal proinflammatory effects, which have so far hindered its use as an anticancer drug. The researchers uncover cellular mechanisms with differential sensitivity to TNF upon reduction of its receptor (p55TNFR) and demonstrate proof of principle by reducing melanoma tumors in mice by administering TNF and simultaneously decreasing TNF receptor levels. [JCI] Press release: Greek, English

---

19/03/2013. In recognition of eminent scientific discoveries and contributions to science, Fleming researcher Professor George Kollias was elected March 14th 2013, full member of the Academy of Athens, the most prestigious academic institution in Greece. (Brief CV - Brief CV )

---

31/01/2013. A new study published in PLoSOne by the Turin and Skoulakis labs in collaboration with the local fragrance chemistry company Vioryl demontrates that humans can differentiate between perdeuterated and normal isotopes of the musk odorant cyclopentadecanone (Exaltone®). This suggests that for humans as for flies, molecular vibrations rather than molecular shape alone contribute to the distinct smell of substances. The paper received extensive worldwide media coverage: BBC (link1 - link2), ToVima, RSC, Scientific American.

---

Introducing Biomedcode Hellas SA.
A spin off company of BSRC "Alexander Fleming" providing pre-clinical drug evaluation services to pharmaceutical companies using disease animal models.

---

The Center has established six core facilities to offer internal and external users direct access to its research infrastructures. The animal house facility, protein chemistry lab, expression profiling facility, transgenic facility, flow cytometry facility, innovation and enterprise unit, genotyping facility and BioIT unit are actively involved in collaborations with both academic and industrial partners.

More highlights...
International Collaborations
The BSRC Fleming participates in a number of International programs. Such collaborations are of significant importance for the exchange and dissemination of knowledge and expertise as well as bring together major groups around the world for the study and therapy of human disease.

Read more on International Collaborations...