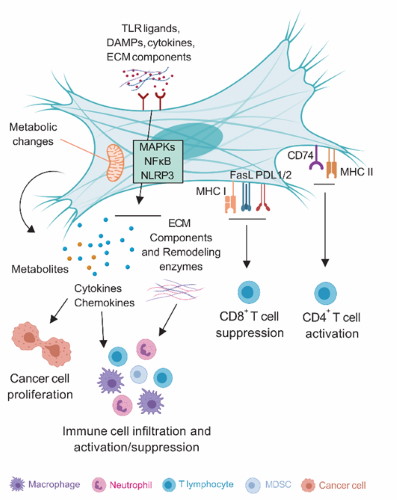 Koliaraki and Kollias laboratories published a review article in JEM that provides a concise overview of the relationship between the innate stroma and cancer, bringing into focus an emerging concept that sets the fibroblastic mesenchyme as a central player in shaping the tumor microenvironment. The innate stroma, encompassing innate immune as well as fibroblastic mesenchymal cells, acts as an important orchestrator of the cancer microenvironment and can influence tumor fate through anti- or pro-tumorigenic roles. [Pubmed]
The review describes the innate immune cell types, their recruitment, activation and functions, as well as recent data on the emerging immunomodulatory properties of mesenchymal cells in the tumor microenvironment, underlying their instrumental roles in cancer initiation, progression and metastasis and discussing also their therapeutic potential. It also emphasizes recent insights into the diverse identities and functions of innate tumor-associated cell components and highlights the need for better understanding of their heterogeneity and function.
Review article 
Vasiliki Koliaraki, Ana Henriques, Alejandro Prados, George Kollias. Unfolding innate mechanisms in the cancer microenvironment: the emerging role of the mesenchyme. J Exp Med. 2020 Apr 6;217(4). pii: e20190457. doi: 10.1084/jem.20190457.