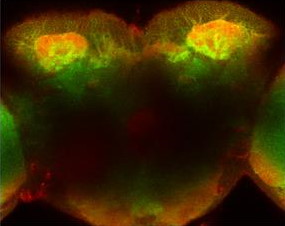 Α new study performed by Papanikolopoulou and Skoulakis Lab, BSRC Alexander Fleming, published in Journal of Neuroscience, evidence that Tau loss in Drosophila dynamically alters brain cytoskeletal dynamics and profoundly affects neuronal proteostasis and plasticity. [Pubmed]
The microtubule-associated protein Tau (MAPT) is a protein known largely for its pathogenic potential, due to its extensive involvement in neurodegenerative disorders such as Alzheimer's disease, but not for its physiological functions apart from microtubule binding. Work from Papanikolopoulou and Skoulakis Lab demonstrated the role of the Drosophila Tau orthologue in brain cytoskeletal dynamics and revealed novel functions of Tau as a negative regulator of translation, protein synthesis-dependent long-term memory and facilitator of habituation, suggesting roles in neurotransmitter dynamics and release. 
Ηighlights:
• Drosophila Tau is a true vertebrate Tau orthologue as it interacts with the neuronal microtubule and actin cytoskeleton.
• Drosophila Tau loss specifically enhances Protein Synthesis Dependent Long-Term Memory (PSD-LTM), leaving associative 3 min short-term memory and Anaesthesia-Resistant Memory unaffected.
• Drosophila Tau down-regulation within Mushroom Body neurons impairs habituation whereas its elevation yields premature habituation and depressed PSD-LTM.
Overall, the emerging insights from this study on Tau physiological functions are invaluable for understanding the molecular pathways and processes perturbed in Tauopathies.
Authors: Katerina Papanikolopoulou, Ilianna G Roussou, Jean Y Gouzi, Martina Samiotaki, George Panayotou, Luca Turin and Efthimios MC Skoulakis.  
The study was published in the Journal of Neuroscience,5 September 2019, 0391-19;
DOI: https://doi.org/10.1523/JNEUROSCI.0391-19.2019   
PubMed: https://www.ncbi.nlm.nih.gov/pubmed/31488613