Affymtrix GeneChip Solutions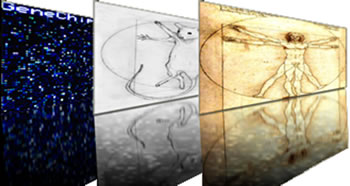 The expression levels of thousand of genes, by DNA microarrays is a powerful tool for biologists, mathematicians and computer scientists in their attempt to decipher the complex organization of biological phenomena. The expression profile, of any given cell, to any given status or response, constitutes a molecular fingerprint which could help to discriminate between malignant and benign, active or quiescent, resting or infected.
The facility takes on all aspects of development and implementation of microarray technology using DNA and miRNA arrays for gene expression profiling in a variety of organisms. Highthrouput experiments are performed by isolation of RNA, quantitative and qualitative estimation of the samples, hybridization procedures, staining, washing and scanning of the arrays, as well as quality control reports, normalization techniques and clustering methods for analyzing the data.
Microarrays: Affymetrix GeneChip System
Hybridization: Complete protocol for Affymetrix hybridization experiments from total RNA
Sample Processing: up to 12 samples in can be processed simultaneously
Sample Quality Assessment: Lab on Chip, Bioanalyzer / Nanodrop
Microarray Experiment & Analysis Pipeline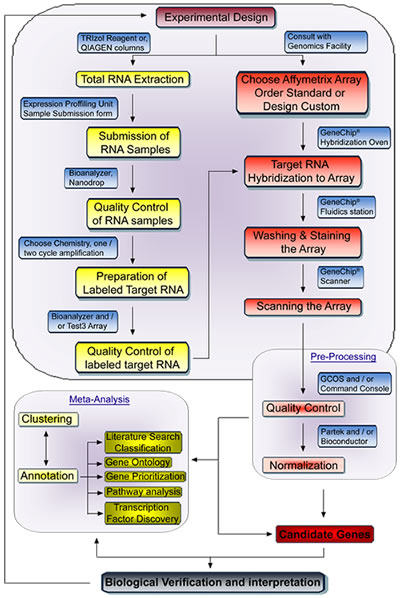 Sample Preparation: ds cDNA Synthesis, Synthesis of cRNA, Labeling of cRNA, Sample purification, Hybridization, Scanning
Types of Arrays: 3' IVT arrays (Genome arrays), Gene arrays, Exon arrays
Organisms: Any available organisms on Affymetrix chips
A spotted microarray scanner, ScannArray Express, is also available for use upon request.