The Protein Chemistry facility provides a core facility for the analysis and characterization of proteins and their interactions with other biomolecules.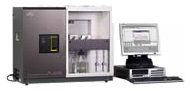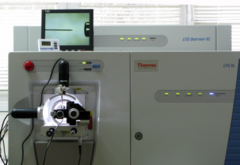 A Thermo Scientific LTQ Orbitrap XL hybrid FTMS is available since November 2010, providing an outstanding tool for advanced proteomics. It is equipped with a nanospray source and is suitable for quantitative proteomic analysis, employing SILAC or other isotope-labeling techniques. Peptides are separated with a specialized RSLCnano system (Ultimate 3000, Thermo). The Laboratory also has an LCQ-Deca ion trap (Thermo), equipped with standard electrospray, nanospray and a MALDI source. Data analysis is performed with Proteome Discoverer 1.3.
Another major instrument of the facility is a Surface Plasmon Resonance biosensor (BIAcore 3000) for the analysis of macromolecular interactions, an area where our group has extensive experience. All the necessary equipment for 2-D gels as well as a HPLC system and two FPLC systems for protein purification are also available.
Services
The Macromolecular Analysis Laboratory offers the following services:
Quantitative analysis of macromolecular interactions with the Biacore 3000 biosensor
Protein identification by nanospray mass-spectrometry
Identification of post-translational modifications
Separation of protein mixtures with two-dimensional electrophoresis
Separation of peptides by HPLC
Quantitative drug analysis
Protein expression and purification
Contact Information
For more information, please contact:
This email address is being protected from spambots. You need JavaScript enabled to view it.
Tel: +30-210-965-5054
This email address is being protected from spambots. You need JavaScript enabled to view it.
Tel: +30-210-9656310 ext.152
Please click here for the online LC - MS / MS ANALYSIS request form